-95℃Technical parameters ofultra-low temperature cold trap
| | |
| --- | --- |
| Type | TH-95-15-G |
| Cryochamber temperature | -95℃ |
| Operating Temperature Range | 15 ~30℃ |
| Cooling time | 60min |
| Noise | 55dB |
| Voltage | 220V 50Hz |
| Power | 800W |
| Electric current | 6A |
| Dimensions (mm) | 420*560*710 |
| Housing Material | Cold rolled sheet sprayed |
| Cryochamber material | Stainless steel |
| Cryochamber size | ∮190*260 |
| Compressor | DANFOSS |
| Blowers | EBM29/5W |
| Primary refrigerant | R134A,R404A, |
| Secondary refrigerant | TH100 |
| Pressure Switch | DANFOSS KP5 |
| Thermostat | (RKC)CD901 |
| Temperature sensor | T type thermocouple |
| Time relay | FUSI |
| Weight | 90kg |
Component diagram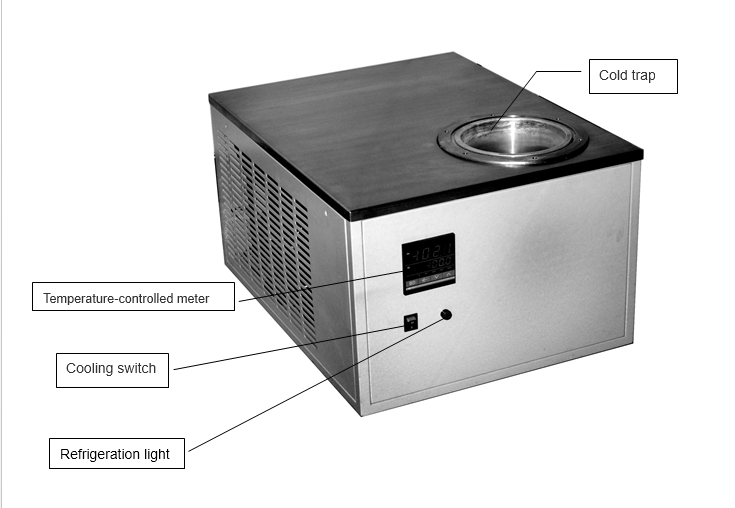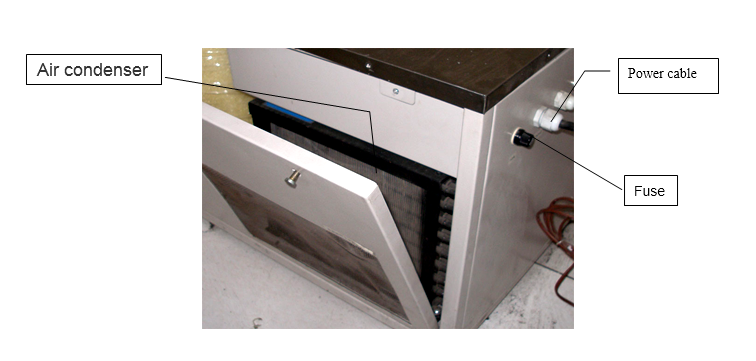 Note: due to product improvement and productserialization improvement, the products you get may not be completelyconsistent with the illustration in this manual. Please refer to the real product.

Installation &. Instruction
1. Check the packing list and check whether theaccessories are complete after unpacking;
2. Refrigerator should be placed in a cool andventilated, the location of the ambient temperature shall not exceed 3 0 ℃, casing from the wall and other items shall not be lessthan 30 cm; Keep away from heat generating machines;
3. The machine should be left standing for 24hours to allow oil to flow back to the compressor before starting up;
4. Please provide a special over-current andleakage protection switch (10A) for the ultra- low temperature refrigerator,which cannot be shared with other equipment;
5. Check whether the power supply meets therequirement of 220V+5%, plug it in and prepare for operation;
6. Plug in the main power supply, thetemperature display on the front panel shines, press the refrigeration switch,th e first compressor and fan start operation, but the refrigerator does notrunning;
7. When the first compressor run 5 minuteslater, the second compressor starts, front panel refrigeration indicator li ghton which means the machine starts to refrigerate, about 30 minutes to - 90 ℃.
1. The refrigerator is only suitable for gas refrigeration,not for liquid;
2. Please do not move the refrigerator at will afterrefrigeration;
3. Do not touch the freezing chamber during refrigerationto avoid frostbite or adhesion;
4. The appearance of the refrigerator can not be washedwith water, so easy to lead to electricity leakage; but wipe with a damp clothis ok;
5. Clean the condenser filter everythree months, but it should be cleaned every month under the particularly harsh environment (See Condenser cleaning for details); Please don't put thedissipate high heat machines together in th e same room, which is adverse toheat dissipation;
6. Do not drill on the box or screw, to avoid damage to therefrigeration pipeline;
7. If the machine breaks down or fails to reach the idealtemperature for a long time, please contact the manufactur er in time, and donot ask ordinary refrigerator maintenance personnel to repair at will;
8.This machine is suitable for continuous operation,frequent start will shorten the service life, should try to avoid. T he restartinterval should be greater than 10 minutes.
Condensercleaning
Depending on the work environment, clean thecondenser fins and filter every three months in general, but it should becleaned every month under the particularly harsh environment. Never rinse withwater! There are three steps to cleaning:
I. Unscrew thescrew and remove the front cover (with dust screen) to expose the condenser (figure 1)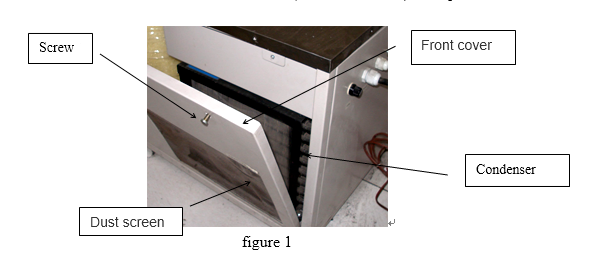 II. Brush upand down fins with scrubbing brush, get rid of the large dirt fromthe crack. (figure 2)

II. Brush upand down fins with scrubbing brush, get rid of the large dirt fromthe crack. (figure 2)